Welcome to the world's largest inventory of Houseboats. From here, you can search by price category OR you can search by keyword. In order to search by manufacturer you will need to input part of the manufacturers name or the correct spelling of the whole name. For example, if you are searching for a Sumerset Houseboat, you can either type in Sum or Sumerset.
For your convenience, here are the brands that we currently have inventory of: Sharpe, Sumerset, Thoroughbred, Horizon, Stardust, Fantasy, Lakeview, Starlite, Paradise, Jamestowner, Cumberland, Gibson, Playcraft, Harbormaster, Catamaran Cruiser, Hilburn, Carri Craft. Thank you for visiting our web site, enjoy your experience on BuyaBoat.net and please give us a call if you have any questions at 606-636-6427.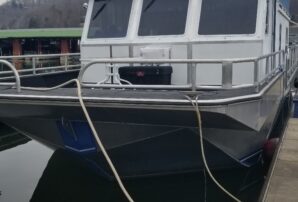 2000 Sunstar 16 x 52 Made for traveling the high Seas!!! $169,900
Houseboat $169900
Stock #
:
2000 Sunstar 16×52 This Boat was special made for traveling the high seas Twin Yanmar Diesel engines  1650 hrs Westerbeke 8.5 kw gen set 1 bedroom with a cuddy that could be used as a 2nd 1 bath Radar, Gps, Ship to Shore Radio 400 gallon fuel tank To many extra items to list […]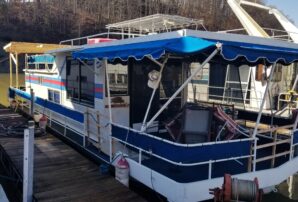 1968 Stardust Cruiser 12 x 40 $19,900
Houseboat $19900
Stock #
:
Get Starter Boat!!!!! 1968 Stardust 12×40 Nice  Little Boat Very well maintained, Would make someone a nice starter boat or a great Fishermans Special Inboard Motor (Not operable ) 1 Bedroom 1 Bath everything stays except personal belongings This is  great Little Boat for the money. For More information Please Call 606-303-5741 ask […]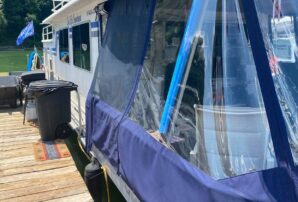 1979 Sumerset 14 x 58 *** $49,900***
Sumerset 14 x 58 $49900
Stock #
:
1979 Sumerset 14 x 58 Master bedroom Queen Built in night stands Sleeper Sofa Queen 1 Bath New plywwod floors New Vynal Floors Insulation in ceiling New ceiling new Paint 80 gallon Fresh water 50 amp service Large front deck with enclosers new generator aluminum hull cat walks ****Motor Does Not Run !!! for more […]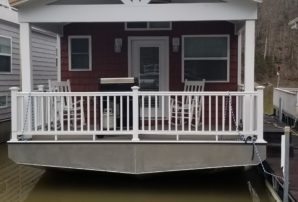 NEW 2018 MODEL 16 x 52 (The Tiny)
Harbor Cattage $
Stock #
:1779
"The Tiny" Approved for 'TVA' Lakes • 16' X 52' 5052 Aluminum USCG Approved Hull • Custom Built Superstructure • Available W/ or Without Propulsion, • IO or Outboards – Gas or Diesel • 2 Bedroom: 1 King and 2 Queen Beds • Oversized "FULL" Bathroom • 9' Walls w/ Vaulted Ceiling in Main Cabin […]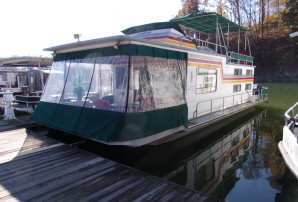 1982 SUMERSET 14 x 45 **Priced Reduced $44,900** Needs Some TLC !!!!
Sumerset $44900
Stock #
:1773
Propulsion / Mechanicals: 100 H.P. Johnson Outboard 5 KW Westerbeke Generator 95 Gal. Fuel 100 Gal. Fresh Water 50 amp service 2 Ton HVAC system – USCG Documented Vessel Purisan waste treatment system Cat Walks New Digital Thermostat   Interior: Full helm with all instrumentation Spacious front salon with Full Couch 32" RCA Flat […]