Welcome to the world's largest inventory of Houseboats. From here, you can search by price category OR you can search by keyword. In order to search by manufacturer you will need to input part of the manufacturers name or the correct spelling of the whole name. For example, if you are searching for a Sumerset Houseboat, you can either type in Sum or Sumerset.
For your convenience, here are the brands that we currently have inventory of: Sharpe, Sumerset, Thoroughbred, Horizon, Stardust, Fantasy, Lakeview, Starlite, Paradise, Jamestowner, Cumberland, Gibson, Playcraft, Harbormaster, Catamaran Cruiser, Hilburn, Carri Craft. Thank you for visiting our web site, enjoy your experience on BuyaBoat.net and please give us a call if you have any questions at 606-636-6427.
1994 Stardust 18×84 "Saved By Grace" $219,000
Houseboat $219000
Stock #
:1812
Propulsion/Mechanicals  Twin 5L V8 Mercruiser (450 hours/443 hours) 15kw Westerbeke Generator (3942 hours) Bow and Stern Thrusters MMC Engine controls Interior 4 bedroom 2 bathrooms Wet Bar Spacious Salon Washer and Dryer in hallway Spacious Kitchen with a lot of storage Exterior The TOP DECK is great!  Has everything you need and recently redone! […]
1996 Stardust 16×73 "Hornswaggled" 16×73 Widebody REDUCED $160,000
Houseboat $160000
Stock #
:
Twin Mercruisers 3.0 with only 165 hours each Westerbeke 12.5 KW Generator with less than 1,000 hours on it. 3000 Watt Inverter with 6 batteries MSD II system Completely Remodeled including:  new flooring, painted cabinets, backsplash, granite countertops Adorable decor and furniture stays with boat 3 Queen Bedrooms 1 1/2 bath Pithane Roof Fly Bridge […]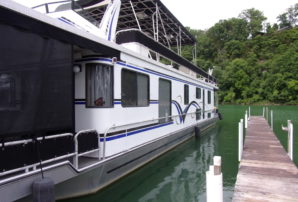 1999 Lakeview 15×64 "Wave on Wave" $144,900
Houseboat $144900
Stock #
:1799
*Twin Mercruiser 3.0 (288 hours on each) *Westerbeke Generator 12.5 (649.5 hours) *4 beds (3 queen/1 full) *1.5 baths *Purisan system * 2.5 Trane HVAC installed 2018 *Slide *Flybridge *wet bar on party top *Slip Rental paid thru March 2020. Contact Jennifer to schedule a showing. 606-303-5741  Jennifer@buyaboat.net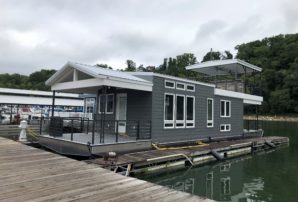 2018 Harbor Cottage Houseboats – Tiny XL REDUCED!
Harbor Cottage Houseboat $250000
Stock #
:tinyxl
Harbor Cottage Houseboats (www.harborcottagehouseboats.com) has unveiled its newest model – the TINY XL! Check out the 3D tour: https://my.matterport.com/show/?m=sBaupWNPCoE&brand=0 • 16' X 60' USCG Approved Hull • Custom Built Superstructure • Twin 115 EXLPT Command Thrust Mercury Outboards • Casement style windows and Hardi-plank exterior siding • 2 Bedrooms: 1 King in Master and 1 […]
NEW 2018 MODEL 16 x 52 (The Tiny)
Harbor Cattage $189900
Stock #
:1779
"The Tiny" Approved for 'TVA' Lakes • 16' X 52' 5052 Aluminum USCG Approved Hull • Custom Built Superstructure • Available W/ or Without Propulsion, • IO or Outboards – Gas or Diesel • 2 Bedroom: 1 King and 2 Queen Beds • Oversized "FULL" Bathroom • 9' Walls w/ Vaulted Ceiling in Main Cabin […]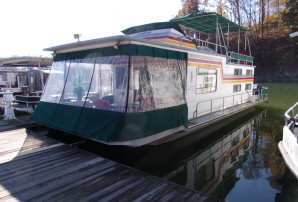 14' X 45' 1982 SUMERSET (Confederate Raider)
Sumerset $56900
Stock #
:1773
If houseboat sells will sell 2016 misty harbor pontoon for $16,900 with trailer. Propulsion / Mechanicals: 100 H.P. Johnson Outboard 5 KW Westerbeke Generator 95 Gal. Fuel 100 Gal. Fresh Water 50 amp service 2 Ton HVAC system – USCG Documented Vessel Purisan waste treatment system Cat Walks New Digital Thermostat   Interior: Full helm […]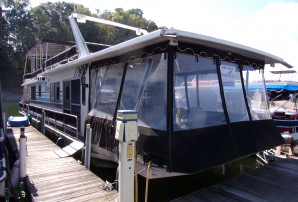 1986 SUMERSET 14' X 60' (Just Chillin) $60,000
Sumerset $60000
Stock #
:1770
Propulsion / Mechanicals: 3.0 MERCRUISER 15 KW Westerbeke Generator 2,000 Watt Inverter Twin 95 Gal. Fuel Twin 100 Gal. Fresh Water 80 Gal. Waste 50 amp service 2 Ton HVAC system – USCG Documented Vessel (current) Purisan waste treatment system Cat Walks Interior: Full helm with all instrumentation Spacious front salon with Full Couch & […]