Welcome to the world's largest inventory of Houseboats. From here, you can search by price category OR you can search by keyword. In order to search by manufacturer you will need to input part of the manufacturers name or the correct spelling of the whole name. For example, if you are searching for a Sumerset Houseboat, you can either type in Sum or Sumerset.
For your convenience, here are the brands that we currently have inventory of: Sharpe, Sumerset, Thoroughbred, Horizon, Stardust, Fantasy, Lakeview, Starlite, Paradise, Jamestowner, Cumberland, Gibson, Playcraft, Harbormaster, Catamaran Cruiser, Hilburn, Carri Craft. Thank you for visiting our web site, enjoy your experience on BuyaBoat.net and please give us a call if you have any questions at 606-636-6427.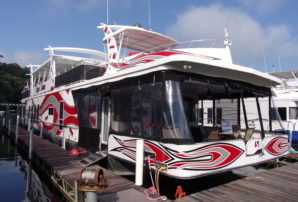 2004 SHARPE 18′ x 89′ Wide Body 'CARPE DIEM' $389,900. STOCK # 1786
Houseboat $389900
Stock #
:#1786
2004 SHARPE 18' X 89' 'CARPE DIEM' $389,900. "CUSTOM" STOCK # 1786 PROPULSION / MECHANICALS: Twin 5.0L Mercruisers with Multi – Port Injection EFI Outdrives serviced June 2016 20 KW Westerbeke Generator  (Both Engines & Generator serviced last Fall by Cumberland Marine) Hydra-Naitics Bow & Stern Thrusters Halon Fire Suppression 3,000 Watt True Sign Wave […]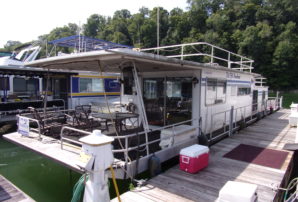 1979 Sumerset aluminum hull w/ cat walks "SOLD AS IS" $29,900. STOCK # 1785
$29900
Stock #
:1785
1979 Sumerset Houseboat to be "SOLD AS IS" Mercruiser I/O : running condition unknown Generator: running condition unknown 2 bedrooms 1 bathroom Galley Full Salon Covered front deck Large open rear deck roof deck offers room to enjoy the sun * EVERYTHING ON THIS VESSEL IS INCLUDED ! Call for an appointment: Tom Schmidt 606-303-5741 […]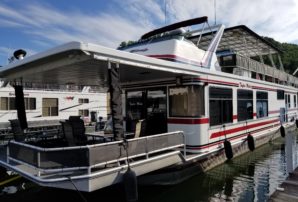 1996 SUMERSET 16' x 75' (TAYLOR MADE)
Sumerset $199000
Stock #
:1781
PROPULSION/MECHANICAL: Twin 5.7 Mercruisers with Bravo II outdrives (550 hrs) (lower units serviced 2014, motors tuned 2018) 15 KW Westerbeke Generator 2,500 Watt True Sine Inverter  (8 – 6V batteries) 4 ton Trane HVAC 50 AMP service – 2-95 gallon fuel tanks 4-80 gallon water tanks Aft deck PWC fueling station Raritan heads with Purasan […]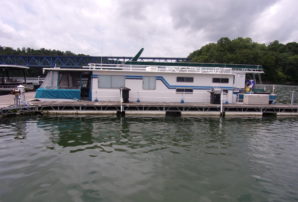 1979 JAMESTOWNER 14 X 58 (LAUGH KNOT – PAID FOR)
Jamestowner $19950
Stock #
:1782
A beautiful steel hull entry level boat with a Johnson 88 hp Outboard.  Full front deck with enclosure, front deck furniture, fully functioning helm with VHF and Pioneer AM/FM stereo radio.  Upgraded window treatments, futon and swivel chair in salon.  Features hallway bunks and double bed in master stateroom.  If you are looking to get […]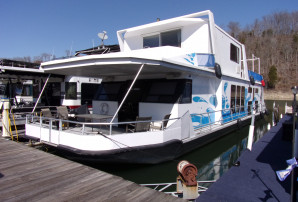 1998 SUNSTAR 18 x 65 (NAUTICAL NOTION) "PRICE REDUCED" $119,900.
SUNSTAR $119900
Stock #
:1745
PROPULSION / MECHANICAL: Sunstar 600 Series "ALL DIESEL " (best fuel rating on the Lake!) Volvo AQAD 4 cylinder Diesel AD 31 P-A Series -150 H.P. Onan MDKAE 20.0 KW Diesel Generator Magnum ME-RC 2,000 Watt Inverter (remote control) INTERIOR: 4 Bedrooms – (4 Queens, 2 Full, & two couches make into queen beds) The […]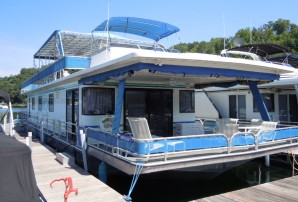 1998 SHARPE 18 X 78 (Goldfisch III) $229,995.
Sharpe $229995
Stock #
:1727
Propulsion: Twin 305 Mecury's ( Engine Hours :  72.0 on Port, & 37.9 on Starboard) Westerbeke 12.5 KW Generator (241 hours) New house & starter batteries INTERIOR: This "one owner" houseboat is loaded with many custom touches, 3 large bedrooms and 1.5 bathrooms (plus a sleeper sofa) Custom Helm with full instrumentation & split MMC […]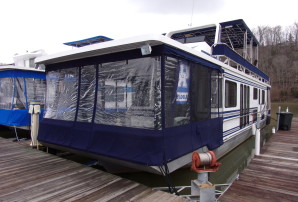 1999 LAKEVIEW 14' X 57' (NETTLE'S ARK)
$149900
Stock #
:1780
PROPULSION / MECHANICAL: 3.0 Mercruiser w/ Alpha 1   Low Low Hours  @ 298 MMC Control 8.5 Westerbeke Generator  Low Low Hours  @ 1,205 (recently serviced) Trace Inverter 1,500 Watt w/4 batteries Twin 65 Gal. Fuel Tanks Twin holding tanks 50 AMP power cord INTERIOR: This 4 Bedroom, 1 & ½ Bath Houseboat is "Brand New", […]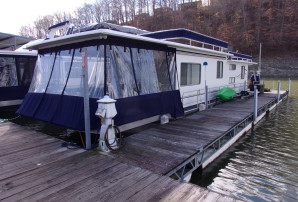 1982 Sumerset 14 x 61 (THE WEST SIDE)
Sumerset $89995
Stock #
:1778
Propulsion: Volvo Penda Diesel 135 H.P.  I/O turning a Large Prop Central Marine Diesel 12.5 KW Generator (Only 820 Hours –  New in '06') Xantrex 2,500 Watt Inverter 2 Ton HVAC System NEW Purisan equipped *All LED Lighting* Interior: Everything Inside Is NEW! Custom Built Helm Station with built-in's : Flat Screen T.V., new […]
NEW 2018 MODEL 16 x 52 (The Tiny)
Harbor Cattage $189900
Stock #
:1779
"The Tiny" Approved for 'TVA' Lakes • 16' X 52' 5052 Aluminum USCG Approved Hull • Custom Built Superstructure • Available W/ or Without Propulsion, • IO or Outboards – Gas or Diesel • 2 Bedroom: 1 King and 2 Queen Beds • Oversized "FULL" Bathroom • 9' Walls w/ Vaulted Ceiling in Main Cabin […]